Men are always about their gadgets, no wonder they could spend quite a sum on getting themselves some. Knowing some cool gadgets for men love will help you with ideas for gifts for men.
In this article, we will be making a list of gadgets for men that fall under $400. It is a great thing to be able to find that perfect gadget; it is even a greater thing when you can get one that would not be breaking your bank account.
Here, we present you with those must-have gadgets that every man would love to have. 
1. The Amazon Echo
See our Amazon Echo Dot Prices Comparision
The Amazon Echo is a very significant gadget in every smart home. It is a smart gadget that takes some pretty much tasks off your hand and let you focus on other things. Amazon Echo allows you to laze around the house without bothering with trivial tasks.
This a really cool gadget for man as well as the female that can control virtually everything in the house down to the mundane task of switching on and off the light.
When connected to your home, the Amazon Echo can control temperature, can help you order an Uber ride, control the Amazon radio, access the Amazon store, and help you go browse through Spotify. With its amazing speaker, this gadget can put your home on smart automation.
Check out: Amazon Echo Dot Review
2. MyEasyShopping T6 2400LM 3-LED 5-Mode Cool White Light Flashlight
This may seem quite a simple device, and you may be wondering why an Emergency flashlight counts as a cool gadget for men.
Well, you would not know the significance of this flashlight until you caught in the situation that requires one. Before you are caught in that kind of situation, it is better you get this just in case. 
The idea of a flashlight into something that packs some cool features. This LightMate Emergency Flash Light, for instance, comes with a power bank with its 2200mAh battery power for emergency mobile phone charging.
The flashlight also comes with five different flashlight style: the dim, the bright, medium, SOS and strobe. The flashlight does more than its price tag.
3. The Nespresso Pixie Espresso Maker
Compare prices with three vendors
This is a mobile espresso maker. The Nespresso Pixie Espresso Maker is unlike the many cheap and almost worthless espresso makers out there.
This gadget gives you almost the quality that the bigger more pricey espresso makers would give you. And the good news about this espresso maker is that it is on the cheap side and fit well into the budget as it is below $200. Make yourself some good espresso with this gadget, and you will never regret it.
4. The iClever Smart Bluetooth Keyboard
The iClever keyboard; it is not only portable, but it is also foldable, and yes it comes with a Bluetooth capability. With this keyboard being foldable, you can carry it every with you and cram it into that little space in your bag.
You do not have to worry about breaking the keyboard while folding it. To prevent that, iClever segmented this keyboard into three sections that make the folding safe and easy.
This iClever Smart Bluetooth Keyboard gadget fall under 400$ especially more fit when you are in bed, and you do not want to move closer to the screen, or you want to maintain a comfortable position that your PC wouldn't allow. Also, it is a good gadget to use with your tablet.
5. The Nyrius Aries Home+
The Nyrius Aries Home+ is a very cool HDMI transmitter that you will love having in your home. It costs less than $300, which is quite affordable when compared to the things it does.
The Nyrius Aries Home+ comes in handle to save situations at home. There are times you want to enjoy your game console in the sitting room, and you have visitors all in there.
The Nyrius Aries Home+ HDMI transmitter could help transmit the gaming activity to a separate screen in the bedroom while you enjoy some privacy by playing the game. This HDMI transmitter also helps transfer your PC activities to a separate preferable screen.
6. The Logitech G900 Chaos Spectrum Wireless Gaming Mouse
This gaming mouse is everything. This should be on every man's workstation. There are few mouse gadgets that are as responsive as the Logitech G900.
If you are very much into games that require the heavy use of a mouse, then this gadget is the best fit for that activity. With its highly sensitive power and smooth feel on the hand, your gaming experience will be a lot better with this gadget.
This is a perfect gift for a man. Another cool thing about this device is that it can go for more than 30hours with a single charge, and also, it allows you to use it while charging it.
7. The Izon Wi-Fi Video Monitor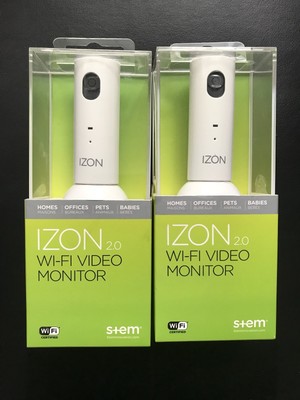 IZON 2.0 Stem Wi-Fi Video Monitor Surveillance for iOS 5.0+ and Android 4.2+
$85.00
VIEW THIS ITEM
Item condition: Used
Ended: Jun 14, 09:55 PST
Free shipping
This is below the $100 mark. However, do not let the price fool you, it does much more than its price tag. This is one gadget you really should have in your home as a man.
The Izon Wi-Fi Video Monitor is a security gadget. You can monitor activities in your home with this gadget on your connected phone. This is a portable security system gadget that comes in handy in every security conscious home.
8. The Polaroid Camera
Everybody loves a camera especially when it can capture good images. This Polaroid Camera has a 10 Megapixel photo ability which translates into really cool images.
It is just at the $100 mark. It has the capacity for an external SD card of up to 32GB. This camera is great for events where you to freeze great memories in cool photo images.
The size of the camera also makes it a gadget that is easy to carry around. The Polaroid Camera also has an integrated printer feature that prints images instantly on demand. This gadget is surely a cool gadget to step out to an event with.